Finally a Commercial BPO Form!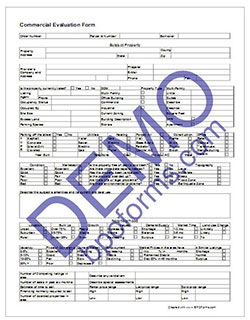 We know that is what many of our users are saying. The commercial BPO form is one of our most frequently requested forms and you no longer have to look elsewhere.  The commercial BPO form is available from within all paying subscriptions to BPOForms.com.  If you are currently a member you will see the commercial BPO form in your available forms list.
The form provided offers the ability to perform generalized Commercial BPOs for multifamily, Retail, or Office properties.  Looking for a vacant land bpo form.  While there are a lot of factors to be considered when generating a Commercial BPO, our Commercial BPO form is a general version that allows you the freedom to present your facts regardless of how much information you actually have.
If you are interested in signing up, please check out the demo version of the form.  We have also embedded the form below:
If you have any questions or concerns, please do not hesitate to contact us via our contact page.  Our BPO Forms Software allows you to easily fill out the information you have for your specific subject property.  Our layout provides a simple format to enter the information as you collect it.  Save your work and return at your leisure.  At any time in the process you can click on the icon of the printer to preview what the filled in BPO form looks like.  Once you are comfortable with the BPO you can email the Commercial BPO form from the system or save it as a pdf to your computer and print or email later.  Generate unlimited BPO's and choose from over 20 different BPO forms to provide a client, financial institution or other interested party.  Thousands of BPOs have been generated with our software and its easy to see why.  Learn more about our features and get started generating your Commercial BPO Form Today.  Click Here to Learn More.
Thank you,
BPO Forms