BPO Template Form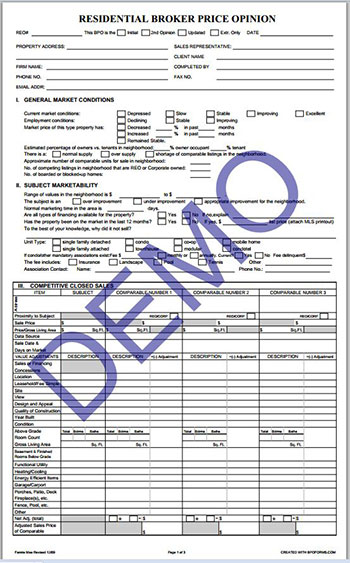 We constantly are asked by many agents and new users of our software if we have a BPO Template form.  The simple answer is yes but as always its not so easy.  Asking for a BPO Template is not a straightforward request.  There are many different types of BPO Template forms available and they can differ based on customer, property type, or order.  Lets look at some of the different BPO Template Forms and discuss when each is applicable.
Residential BPO Template
A Residential Broker Price Opinion can use various different BPO template forms.  Some clients or banks have their own standardized BPO template forms they use.  At BPO Forms we offer over 15 different BPO Template forms to choose form.  You can view a list of the available options here on our FAQ page.
Commercial BPO Template
A Commercial BPO form is used for non residential properties.  If you are performing a broker price opinion for a property that has more than four residential units or is a strip mall or office property you would look to use a commercial BPO Template form rather than a standard residential BPO template.
Interior and Exterior BPOs
Some BPOs are ordered as Drive by BPOs or exterior BPOs which are done mostly on occupied properties.  In this case its likely that the property is currently occupied by someone possibly short selling their property or currently in foreclosure.  You need to be sensitive with these BPOs as they are occupied and sometime they present a hostile situation.  To read more about exterior bpo click here.  The most commonly ordered BPO is an interior BPO.  An interior BPO is when you are asked to view inside the property, photograph all rooms and document all information about the property including the condition of the insides, electrical systems, appliances etc.  An interior BPO is more involved as you often have to schedule to get in and see the inside of the home.  Some times they are occupied properties and you will need to coordinate access with another agent or the actual occupant of the property.  You can learn more about interior bpos here.
Most Common BPO Template
The most widely and accepted BPO form that is currently used is the Fannie Mae residential BPO Form.  The Fannie Mae residential BPO is used for interior and exterior BPO's as well as condominiums, single family homes or townhomes.  Over half of all loans are back by Fannie Mae and other smaller banks or private clients are comfortable and used to the Fannie Mae BPO form guidelines.  If you are just starting out performing BPO's we highly recommend you use the Fannie Mae BPO Template.
Lastly we want to let you know that if you are looking to easily generate and store BPOs you should take a look at our software.  BPO Forms generates thousands of BPOs a day for agents, attorneys, and appraisers across the country.  You can learn more about the software here.  If you are just getting started and need further assistance consider our eBook about How To Complete a BPO and get a free list of BPO Companies while you are at it.